Congratulations Eagle Scout Stanley Matusheski
We congratulate SMPAS's own Stanley Matusheski on attaining the Eagle Scout rank in the Boy Scouts of America. He passed his Board of Review on June 17th, and was presented with the Eagle Scout badge during a Court of Honor ceremony on August 17th.
Highlights of the ceremony included Stanley's mother and father presenting him with his Eagle Scout award (picture at right); and also reciting the Eagle Scout promise with Eagle Scouts of all ages in the room, including Stanley's dad Mike, and also Fr. Gismondi, Pastor of St. Mary's Parish.
Many of you may recognize Stanley as he has been an Altar Server for the old and new St. Mary's Parish. Many of us have watched him grow up in the parish. Stanley is a SMPAS member and has also helped out at most of our SMPAS events by manning kids games, dessert, and beverage tables in the past; but also helped behind the scenes with Pat's kitchen crew, setting up, and cleaning up after events.
Stanley's Eagle Scout Service Project was to lead volunteers in a two part project to help St. Mary's Church. Part 1 was removing the old and large commercial appliances in the St. Mary's Church basement and recycle them. This included building a ramp and rope rigging to get the appliances up the steps and out, load them onto trucks to haul them away, and then remove the ramp that was built. This was all done in a day. Part 2 was to clean, seal, and paint the floor in the church's boiler room. He led volunteers from his Scout Troop, St. Mary's parishioners, and other friends to accomplish these tasks.
Stanley graduated from Lansdale Catholic H.S. in 2019, and is now a freshman at Millersville University. We congratulate Stanley and wish him the best in school, and of course look forward to seeing him come home for our SMPAS events.
Tłusty Czwartek (Fat Thursday) and Pączki Day
As St. Mary Polish American Society celebrates Mardi Gras at our annual event on February 23rd, and of course New Orleans is celebrating Mardi Gras over many days; we also prepare for the beginning of Lent on Ash Wednesday (February 26, 2020). Many people know of Fat Tuesday or Doughnut Day, which is the Tuesday before Ash Wednesday. You may also know it as Shrove Tuesday, Fastnacht day, or even Pancake Day. Many Polish families celebrate this as Pączki Day (doughnut day), and having those delicious pączki. Tłusty Czwartek is Fat Thursday in Poland. Similar to Fat Tuesday, but celebrated on the Thursday before Ash Wednesday (Tłusty Czwartek is Feb 20th in 2020). So, let's keep our Polish traditions alive, and have pączki on Tłusty Czwartek or Pączki Day or both.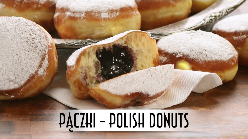 Lent at St. Mary's Church
For all of the former and current parishioners of St. Mary parish, we are so happy that we are able to celebrate the Lenten and Easter seasons here at St. Mary Church once again.
St Mary parish has announced that there will be three (3) Masses on Ash Wednesday.
7:00 am - Low Mass

12:05 pm - Low Mass

7:00 pm - Sung Mass with Choristers
Stations of the Cross will be held every Friday during Lent immediately before Mass.
5:00 - 5:50 pm - Holy Hour

5:30 - 5:50 pm - Confessions

6:00 pm - Stations of the Cross

6:35 pm - Mass
Our weekly devotions to Our Lady of Częstochowa will continue to be said following Mass.